MicroTCU™ Transmission Controller
This is the future home of support information for the MicroTCU™ transmission controller from Bowling and Grippo. As of December 2014, microTCU™ is planned for release in the second quarter of 2015.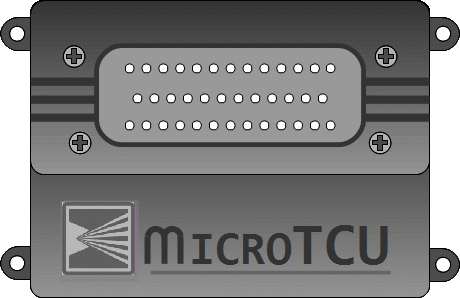 This is a fully assembled transmission controller (unlike the DIY GPIO board based transmission controller). It can control many modern electronic overdrive automatic transmissions, such as GM's 4L60 and 4L80E transmissions among others. The 'quick start' guide is here: MicroTCU™ Quick Start Guide.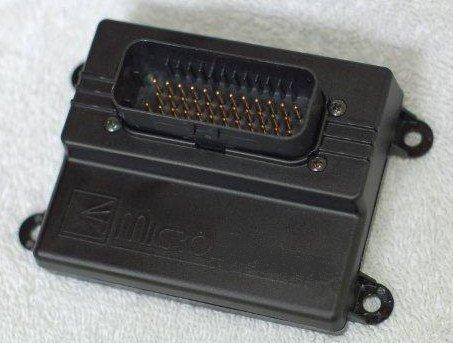 MicroTCU™ is just is 4.71" (120mm) long by 3.13" (79.5mm) wide by 1.67" (42.4mm) to the top of the Ampseal connector. The MicroTCU™ controller uses the sealed 35-pin AMPSEAL connector and a sealable plastic case. MicroTCU™, when used with the included MegaShift™ firmware, provides:
Control for up to 8 forward speeds,
Full CAN pas-through configuration and monitoring/datalogging with TunerStudioMS,
Fully user configurable automatic or manual mode, with user tables for shift speeds and line pressures a based on speed and load,
16×9 speed by load by target gear table (with user settable bins values) for automatic shifting:

OR

You can use separate 8-element upshift/downshift Tach (engine RPM) × Load tables to configure the shifting.

Context sensitive help for all user parameters by pressing F1 button while in any menu in TunerStudioMS (while connected to the Internet),
User settable over and under-rev limiting (can be disabled if desired),
Speed in 0.1 mph (or kph) increments,
Odometer in 0.001 mile (kilometer) increments,
Full datalogging of speed, gear, odometer, line pressure, instantaneous fuel efficiency, converter slip, etc., etc.
Provisions for 'paddle' up and down shifter buttons on steering wheel,
User settable idle valve and ignition advance adjustments when stopped in gear to prevent stalling,
User-settable ignition timing retard for the duration of a shift (to lessen drive line shock, or chance of wheel spin, etc.).
User settable ignition retard when load is above a user specified threshold (for each forward gear above first),
Four LED indicators for current gear. The default pattern is:

The LED pattern is user configurable in V2.000+ MShift™ code, which may be useful for those wanting to implement a 7-segment LED/LCD display driver):

The LEDs or LCD display can be set to flash in reverse.

User configurable output and input patterns for up to 4 shift lever position inputs and up to 6 shift solenoid outputs (to adapt to many automatic transmissions - defaults are for GM 4L60E trans - the 4L80E settings are here). You directly set whether the solenoids are on or off in each gear:

User configurable PWM on all shift solenoid outputs,
User configurable PWM on TCC output, with user settable TCC PWM 'ramp-up' based on load to soften TCC apply,
User configurable 'Dither' (cleaning cycle) in addition to 16×9 PWM table for pressure control solenoid,
User configurable 'Refresh' on shift solenoid PWM outputs (allows running lower PWM percentages to reduce current draw and heat),
Adaptive load sensing interprets your driving style and adjusts shifts to reflect 'hard' or easy' driving,
TunerStudioMS display of shift button status, braking, gear, TCC status, speed, load, odometer, trans temperature, etc.
Built in code for a 0.5-4.5V line pressure sensor,
Configurable (pulse/mile) 12V square wave hardware speedometer output for electronic speedometers (you set the pulse per mile),
Up to four spare outputs that can be set by a user-specified combination of vehicle speed, engine rpm, load, or current gear (with user-set hysteresis to prevent rapidly cycling near the switch points). These can alternatively be used as 'clutch outputs' (i.e., active only during a shift),
GM (3 digital inputs) or Ford style (varying voltage) shift lever determination. If the Ford style is used, the 2 inputs not used for shift lever position determination can be used for datalogging voltage signals (temperatures, TPS, MAP, etc.), OR one or both of them can be used as shift solenoids.
2/4WD speedometer scaling using a digital input,
CAN network to communicate with MS-II™/MicroSquirt®/Sequencer™ to improve control and avoid redundant sensors,
Simultaneous datalogging and controller configuration of both MS-II™ and MShift™ with a single laptop running TunerStudio via CAN pass-through.
many, many more features and functions....
---
---
MegaSquirt®, MicroSquirt®, and MicroTCU™ controllers are experimental devices intended for educational purposes.
MegaSquirt® and MicroSquirt® controllers are not for sale or use on pollution controlled vehicles. Check the laws that apply in your locality to determine if using a MicroTCU™ controller is legal for your application.
---
©2011, 2014 Bruce Bowling and Al Grippo. All rights reserved. V3 MicroSquirt® and MicroSquirt® are registered trademarks. This document is solely for the support of V3 MicroSquirt® boards from Bowling and Grippo.
---